iVC (Amitose VC)
Moisturizing vitamin C derivatives
Amitose VC series is a novel moisturizing vitamin C derivative produced by binding glycerin to vitamin C using our original technology.
Amitose VC series is developed by derivatization of the fragile vitamin C with glycerin in order to improve the stability against oxidation, and so now it is possible to be formulated it into cosmetics with confidence. Because Amitose VC series has an inhibitory effect on melanin production and a moisturizing effect, it is suitable for being applied to aging-care cosmetics. There are some products having additional unique effects such as antioxidant effect, enhancing effect on collagen production, oil-in-water emulsifying ability and antibacterial effect. It can be formulated into skin toner, gel serum, and emulsion such as skin cream, thus allowing it to be used in a wide range of formulations and dosage forms.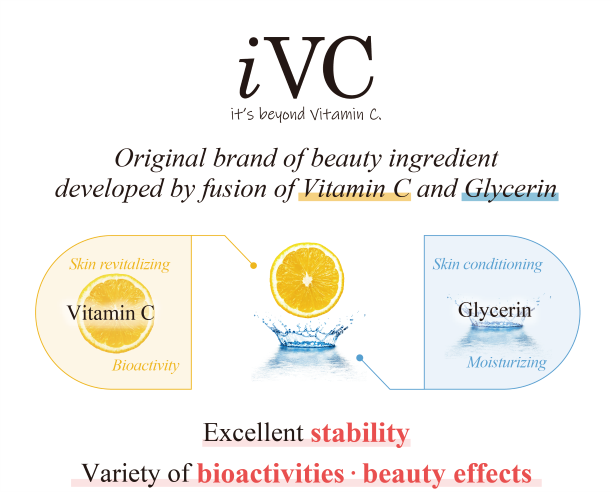 Amitose DGA; Rich Moisturizing Vitamin C
"Hope to make transparent gel formulations containing vitamin C derivative" We answered such an earnest demand from cosmetic makers.
Amitose DGA is a non-ionic vitamin C derivative which is not strongly ionic, unlike vitamin C and traditional vitamin C derivatives. So it is suitable for being applied to gels and emulsions into which it was hard to blend ionic compound, and enables to develop various types of cosmetic formulations.
Verification
We tested stability of Amitose DGA by using transparent gel.
Change in viscosity of transparent gel with Amitose DGA and benchmark was measured. Relative change was calculated assuming the viscosity of control as 100%.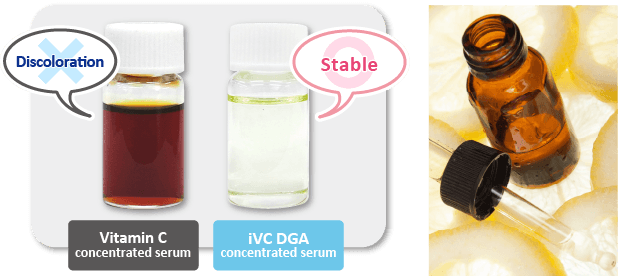 Product Name
INCI name
Amitose DGA
Bis-Glyceryl Ascorbate,
Glycerin,
Water
Amitose 3GA; Anti-aging Vitamin C
Vitamin C concentrated serums that cater to a growing demand for aging-care
Amitose 3GA is a special vitamin C derivative that enables to approach "anti-aging" from various angles. Because of cost benefit, it is suitable to develop the special formulations containing high-concentration of vitamin C derivative. It is also appeal point that formulation containing Amitose 3GA has high temporal stability so that it is hard to discolor.
Verification
We tested stability of Amitose 3GA by using Vitamin C concentrated serums. The temporal change of Vitamin C concentrated serums containing each sample corresponding to 15% vitamin C was observed after 1 month at 50 deg C.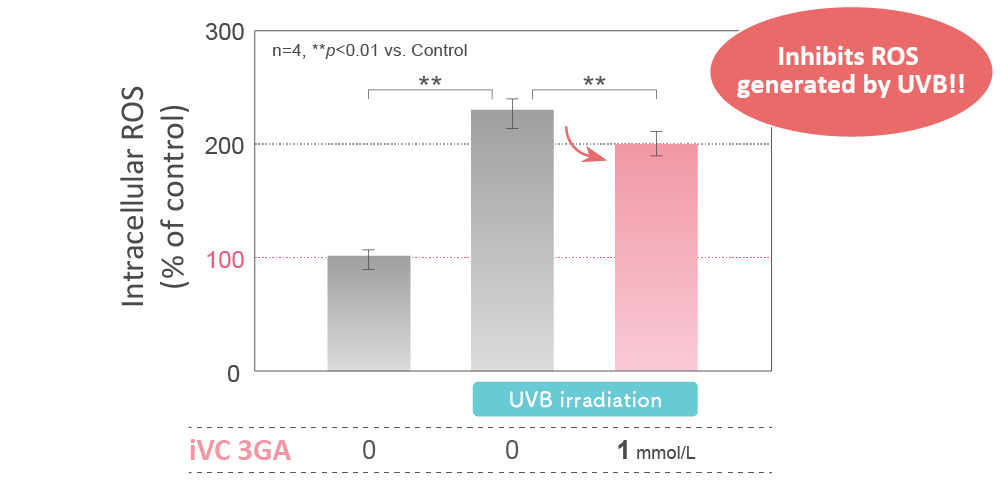 Product Name
INCI name
Amitose 3GA
3-Glyceryl Ascorbate,
Glycerin,
Water
Amitose 2GA; Moisturizing Vitamin C
It has not only skin-conditioning effect but also luxury sensory-texture. The best vitamin C derivative for professional cosmetic makers
Amitose 2GA enables to develop excellent formulations having moist-feeling and comfortable sensory texture without unpleasant frictional-feeling specific to vitamin C.
Verification
We tested sensory-texture of Amitose 2GA by using skin toner.
Panelists evaluated the sensory-texture of skin treated by skin toner with Amitose 2GA or an existing vitamin C derivative and gave 2 point to a better evaluation item, or 1 point to each items when they feel same sensory texture. The graph shows the sum of total points.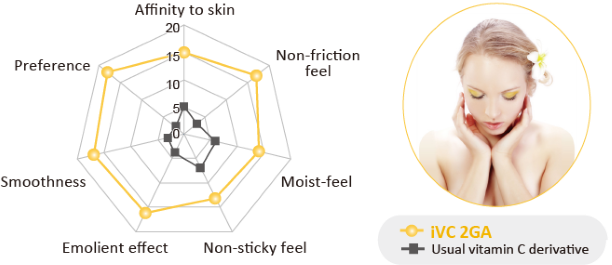 | Product Name | INCI name |
| --- | --- |
| Amitose 2GA | Glyceryl Ascorbate |
Amitose HGA; Autophagy Activator
Achieve jewel-like skin with the world's first brightening mechanism.
Amitose HGA is a vitamin C derivative that has particularly outstanding brightening effects among many vitamin C derivatives.
Mechanism
Brightening mechanism of Amitose HGA.
Amitose HGA exerts its brightening effects through a different mechanism of action from that of ordinary vitamin C derivatives. 1) inhibition of melanin biosynthesis, 2) inhibition of melanin transport to keratinocytes, 3) autophagy of melanin, and 4) inhibition of melanin accumulation in keratinocytes. These four actions provide an excellent brightening effect.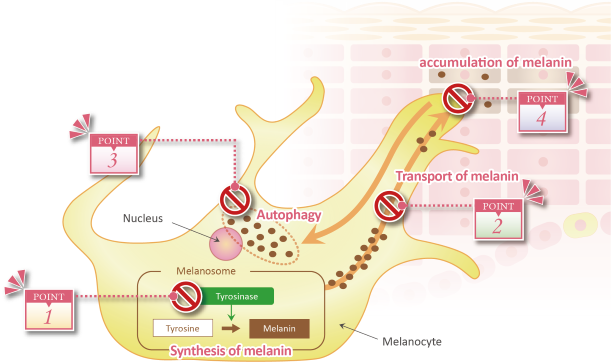 Product Name
INCI name
Amitose HGA
Hexyl 3-Glyceryl Ascorbate,
Glycerin,
Water
Amitose MGA; Pore Minimizer
Get free from pore problems
Amitose MGA is a Pore Minimize vitamin C derivative that targets four points to solve pore problems.
Mechanism
Pore improvement mechanism of Amitose MGA.
Amitose MGA works on the cause of pore problems to improve pores.
1.Suppress C. acne that cause pore problems
2.Prevents excessive sebum production and decomposition
3.Build up the skin base by increasing collagen
4.Never miss the melanin pores.
Acting on these four targets improves pore problems.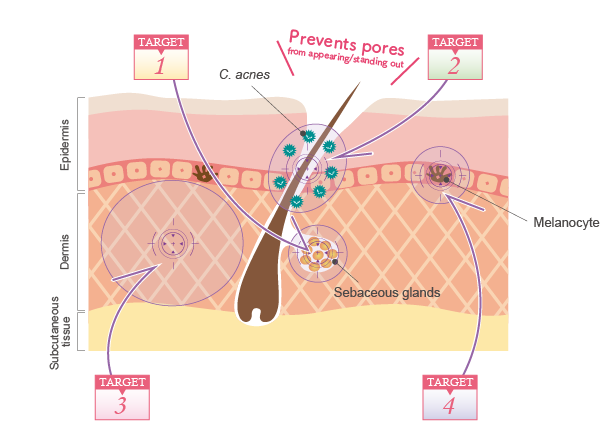 Product Name
INCI name
Amitose MGA
Myristyl 3-Glyceryl Ascorbate,
Butylene Glycol
Amitose 3LGA; Ceramide Promoter
Gain beautiful skin by bringing out the essential power of skin.
Amitose 3LGA is the only vitamin C derivative that promotes ceramide synthesis, which is important for skin barrier, by activating intracellular anti-oxidant system. It reduces skin sensitivity and causes healthy and beautiful skin by enhancing defense function from inner and outer skin.
Verification
We tested the reducing effect of skin sensitivity by Amitose 3LGA.
Panelists applied skin cream with or without Amitose 3LGA on the cheek twice a day for 8 weeks. As stinging test, methyl paraben was treated to subjects and the stinging level was quantified by using stinging score.
Product Name
INCI name
Amitose 3LGA
3-Laurylglyceryl Ascorbate,
Butylene Glycol
Amitose GCA; Emulsion Creator
The completely new function of "emulsifying with vitamin C" supports the development of new concept cosmetics.
Amitose GCA is a vitamin C derivative with the Physiological effects of vitamin C and the ability to prepare emulsions.
Verification
We tested the high stability of Amitose GCA over time by using iVC emulsifying cream (emulsified by Amitose GCA). iVC emulsifying cream and the emulsifying cream emulsified with PEG-60 Hydrogenated Castor Oil instead of Amitose GCA containing vitamin C were observed after 2 months stored at 50 deg C.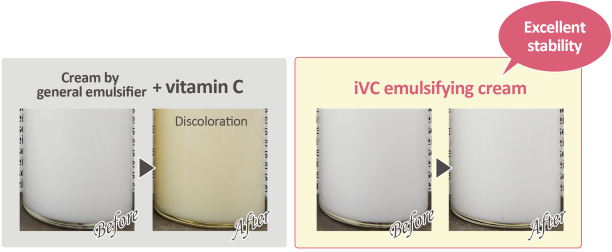 Product Name
INCI name
Amitose GCA
Cetyl 2-Glyceryl Ascorbate,
Pentylene Glycol