Protesil
Peptide / Silicone Hybrid Polymers
The Protesil series are hybrid polymers that combine three different types of substances, namely peptides, an alkyl group and silicone, all of which possess different properties.
Since the peptide portion exhibits a hydrophilic property, while the alkyl group shows affinity to hydrocarbons and silicone demonstrates affinity for silicone oils, Protesil is highly compatible with various raw materials incorporated into cosmetics formulations. In addition, we are developing product counts for the Protesil series possessing different characteristics, depending on the balance of the three components in the polymer structure.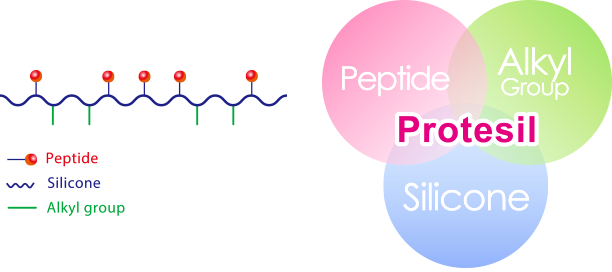 Protesil hair care type
Protesil hair care type is hair-conditioning components which can coat hair thinly and evenly with a film, giving the hair's surface a moist, silky texture.
Protesil LH prevents silicone buildup and keeps beautiful hair!
Protesil hair care type is a "silicone-support ingredient", because it suppresses buildup of silicone which excessively accumulates on the hair surface and keeps good texture even after continuous use.
Verification
We tested non-silicone-buildup effect of Protesil LH.
Damaged hair was treated with commonly used shampoo. Then, it was treated with conditioner containing silicone or conditioner containing both silicone and Protesil LH ten times. Amounts of Si were measured by EDS (Instrument of energy-dispersive X-ray spectroscopy).

Hair color Boost and Keep! Continue the vivid hair color.
Just a small amount of Protesil hair care type can coat hair thinly and evenly with a silky film, curbing the irregular reflection of light, it helps realize a more vivid and translucent hair color and prevents color fading.
Mechanism
We show how to boost hair color-shade and prevent color fading.
Protesil LH coats hair surface uniformly, as a result, the irregular reflection of light decreases and vivid color keeps long. In addition, coating film maintains color component inside the hair, it helps realize a long-term maintenance dyed hair color.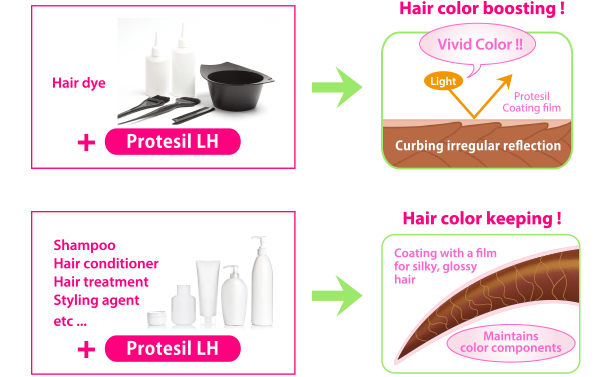 Product Name
INCI name
Protesil LH
Hydrolyzed Silk PG-Propyl Methylsilanediol Crosspolymer,
Water
Protesil W/O-emulsifying type
Protesil W/O-emulsifying type is a new type W/O-emulsifying agent. W/O-emulsions obtained by Protesil have unprecedented excellent texture. So it is expected to apply to several cosmetic formulations, liquid-foundation and sunscreen, high-moisturizing serum.
It provides moisture, without stickiness.
Protesil W/O-emulsifying type can develop a non-sticky and excellent feeling W/O-cream without usual emulsifier's specific stickiness.
Verification
We tested sensory-texture of Protesil WO by using liquid foundation formula.
Sensory evaluation against moist-rich type liquid foundation containing Protesil WO and comparative formulations containing silicone W/O-emulsifying agent A or B instead of Protesil WO was conducted. Formulation containing Protesil WO was assigned to be the base, comparing formulations were evaluated and given -1 to +1 point by panelists and total scores were summed.

Product name
INCI name
Protesil WO
Hydrolyzed Silk PG-Propyl Methylsilanediol Crosspolymer,
Hydrogenated Polyisobutene,
Water