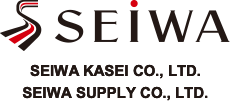 Our company was established in 1958 as SEIWA KASEI Industry CO., LTD., an organization for the development of industrial decomposition technology of waxes and high melting point esters such as Beeswax, Privet wax, and Carnauba wax, and for the production of various types of emulsifying waxes. In 1966, we launched our products, hydrolyzed collagen and its derivatives, onto the market. Following that, SEIWA KASEI CO., LTD. was established in 1972, inheriting the business of its predecessor company.

SEIWA SUPPLY CO., LTD. was then established in 1980 as an independent sales division. It imports and sells chemicals from foreign countries, sells products manufactured by SEIWA KASEI CO., LTD. in the Japanese domestic market, and exports them to the US, Europe and Asia.

SEIWA KASEI CO., LTD. has been developing chemicals from the hydrolysis of natural materials such as proteins, along with a combination of purification techniques and chemical modification technologies. With our innovative technologies fusing hydrolyzed protein and silicone, we have been able to develop unique hybrid polymer products since 1998. Recently, we are actively taking on the challenge of expanding into new areas such as the precise synthesis of low-molecular effective components for perfumes and cosmetics.

Our company is an organization made up of two groups, with a total of about 80 members. We have a family-like atmosphere, wherein each employee can communicate with their fellow employees easily.

Guided by our cherished company motto of "Respect the Harmony between Man, Society and Nature", we are focusing our efforts on the development of new products and services based on a wealth of original and innovative ideas.
With an aim of constantly maintaining our unique identity, we will respond to the increasingly diverse and sophisticated requirements of our customers.
President:Ph.D. Masato Yoshioka