PhytoCuticle/Vegetamide
Vegetable biomimetic raw material
Hair conditioning ingredient designed from hair cuticle.
PhytoCuticle / Vegetamide, designed to mimic the hair surface, effectively repairing the barrier structure that has been lost due to damage and bringing the surface of the hair closer to a healthy state.

"Once again, healthy hair that repels water"― The key to the regeneration of the barrier structure ―
The surface of healthy hair repels water (hydrophobic) due to the presence of a barrier structure.
Due to day-to-day damage to hair brought about by combing and by UV rays, as well as severe damage due to hair coloring and perms, this important barrier structure of the hair surface is broken, making the hair hydrophilic and more susceptible to further damage. By the concentrated repair of the broken barrier structure, the damaged hair can be brought closer to a healthy state.
Verification
We tested hydrophobic property of PhytoCuticle/Vegetamide.
Healthy hair, damaged hair and damaged hair treated with PhytoCuticle/Vegetamide were used in the test evaluating hydrophilic/ hydrophobic property of hair surface by measuring the contact angle of water droplet on hair sample.

"Answer your time-saving needs by quick-drying effect"
PhytoCuticle improves the hair drying speed because it repairs damaged hair and makes it hydrophobic state as pseudo-cuticle.
Verification
We tested quick-drying effect.
Damaged hair treated with PhytoCuticle was put between kimtowel for 60 sec (towel dry). After that, the hair tress was combed once and dryed completely using the hair dryer.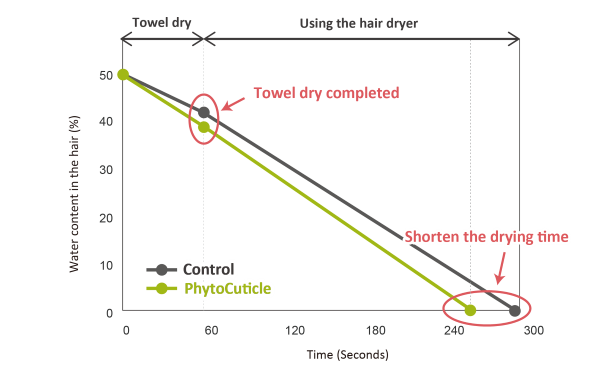 Product Name
INCI name
PhytoCuticle
Hydrolyzed Soy Protein (and) Stearamidopropyl Dimethylamine (and)
Pentylene Glycol (and) Gluconolactone (and) Water
Vegetamide
18MEA-NJ*
Cetearamidoethyldiethonium Succinoyl Hydrolyzed Pea Protein (and)
Glycerin (and) Water
Vegetamide
18MEA-NJS*
Cetearamidoethyldiethonium Succinoyl Hydrolyzed Pea Protein (and)
Glycerin (and) Water
Vegetamide
18MEA-R
Cetearamidoethyl Diethonium Hydrolyzed Rice Protein (and)
Glycerin (and) Water
Vegetamide
18MEA-MR
Hydrolyzed Rice Protein (and)
Stearamidopropyl Dimethylamine (and)
Glycerin (and) Water
*Products which contain the same components at different concentration