Vistanol
Stable ester olis
Vistanol is a series of ester oils that are highly stable against oxidation.
It barely has any color or smell, and is suitable for incorporation into skin care and make-up formulations.
Botanical Lanolin; Vistanol GDHR
Botanical Lanolin; Vistanol GDHR is 100% plant-derived oil with high viscosity.
Vistanol GDHR imparts glossiness and luster that is equal to lanolin, and is suitable for incorporation into make-up preparations such as lipsticks and lip glosses.
Verification
We tested glossiness of Vistanol GDHR.
Vistanol GDHR and various oils undergo a gloss evaluation test using a digital variable angle gloss meter and a refractive index evaluation test using a precision Abbe refractometer to evaluate their glossiness and luster.
| Product Name | INCI name |
| --- | --- |
| Vistanol GDHR | Glyceryl Diisostearate / Hydrogenated Rosinate |
Vistanol NPGC "Excellent sensory texture"
Vistanol NPGC is right texture oil with low viscosity.
Vistanol NPGC has a good spreadability, excellent adhesion to the skin and compatibility with each oils including silicone oil. Since it is very stable against oxidation, it can contribute to the development of cosmetic formulations that are resistant to degradation.
Verification
We tested sensory texture of Vistanol NPGC.
It was compared to general oil such as Triethylhexanoin, Jojoba Oil and Squalane. Panelists evaluated on each item from 1 to 4 in order of increasing.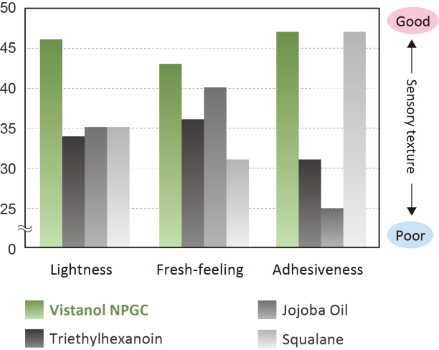 | Product Name | INCI name |
| --- | --- |
| Vistanol NPGC | Neopentyl Glycol Dicaprate |