About us
SEIWA KASEI CO., LTD. is a Japanese cosmetic ingredients manufacturer.
SEIWA SUPPLY CO., LTD. is a chemical trading company and sells SEIWA KASEI's products from Japan to all over the world.
We keep developing unique cosmetic ingredients with our high technology in order to realize people's desire to be beautiful.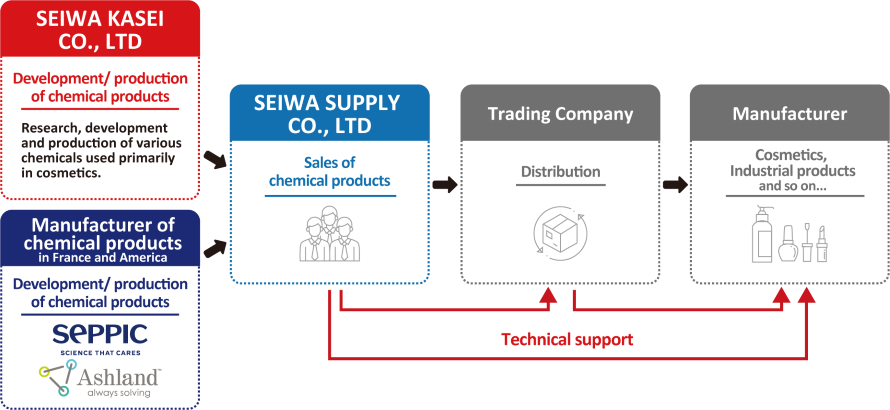 SEIWA KASEI's Business Operations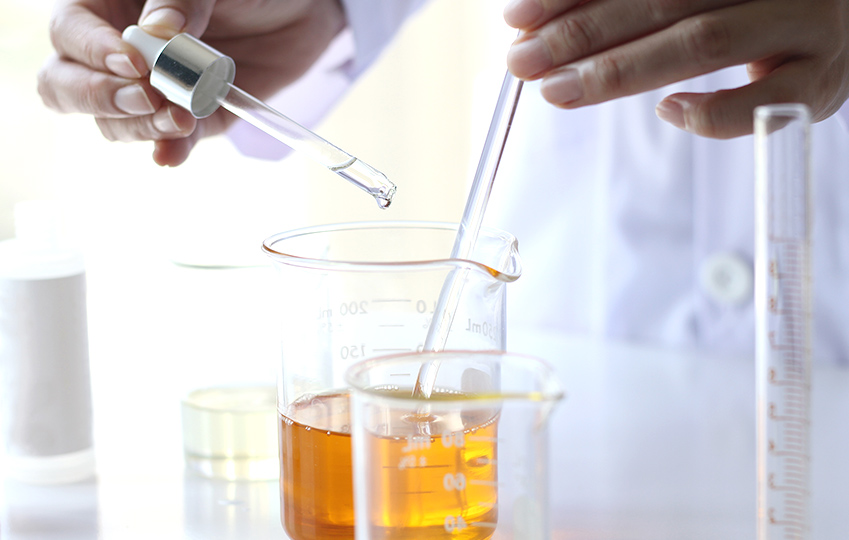 Research and development-oriented chemical manufacturing company that develops and manufactures raw materials primarily used in cosmetics.
The research history of the company, which is widely known as a well-established manufacturer, began in the 1960s with its development of hydrolyzed collagen (collagen peptide) as raw material for cosmetics. We have since evolved and expanded at a rapid rate alongside the development of peptide-applied technologies of peptide derivatives, peptide and silicone hybrids, and ionic complexes with ionic components using the chemical modification method.
We have been aiming to develop raw materials with biochemical functions in new research fields and have started to develop amino acid derivatives and vitamin C derivatives since the early 2000s. Our company has since then created unique and functional raw materials. SEIWA KASEI CO., LTD. is never satisfied with the status quo and will constantly maintain its research to develop new raw materials for cosmetics that are high quality, multifunctional and original.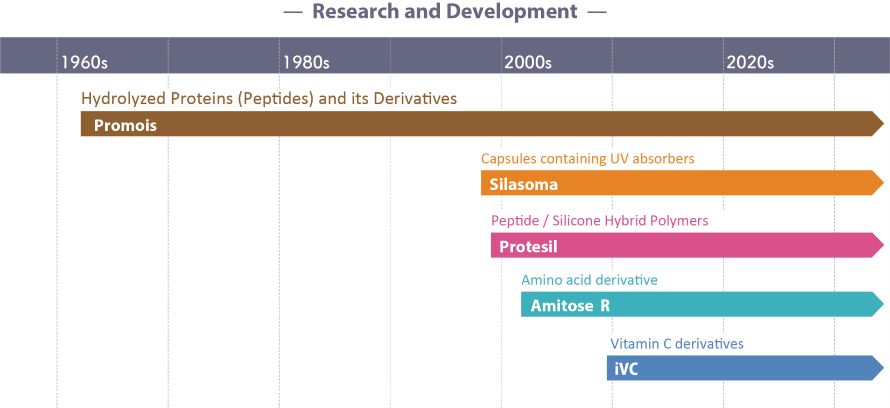 Being able to produce innovative ingredients is made possible by daily efforts and research.
Patent Applications
We actively carry out patent applications for our products to let the public know and understand the innovative research technologies borne out of SEIWA KASEI's development of original materials.
We strive to protect our intellectual property rights by applying for patents in a wide-range of categories, from substance patents to combination patents, so that our customers can use our original products with confidence and peace of mind.
[Japan]
Number of Patent Applications: 327applications、
Number of Approved Patents:88patents
[International]
Number of Patent Applications: 84applications、
Number of Approved Patents:48patents
※November 16, 2022
Presentation of research results in Japan and abroad
SEIWA KASEI CO., LTD. actively presents the results of its research by way of technical presentations at large-scale conferences of cosmetics and personal care scientific societies, and by the submission of papers to scientific journals for the evaluation of its research technology.

SEIWA SUPPLY's Business Operations
We deliver only carefully selected high-quality products to our customers.
SEIWA SUPPLY CO., LTD. was spun off from SEIWA KASEI CO., LTD. in 1980 as an independent trading company specializing in selling chemical products in Japan and abroad. Our Japan Sales Division sells SEIWA KASEI CO., LTD.'s product line in the domestic market, and also imports and sells carefully selected and functional raw materials for cosmetics from representative high-tech foreign manufacturers of such materials like France's SEPPIC or Germany's Shülke & Mayr. The company also imports and sells some industrial chemicals.
Global Market Expansion
Our Overseas Sales Division exports and sells SEIWA KASEI's superb product lines to various countries all over the world, aiming to expand our markets.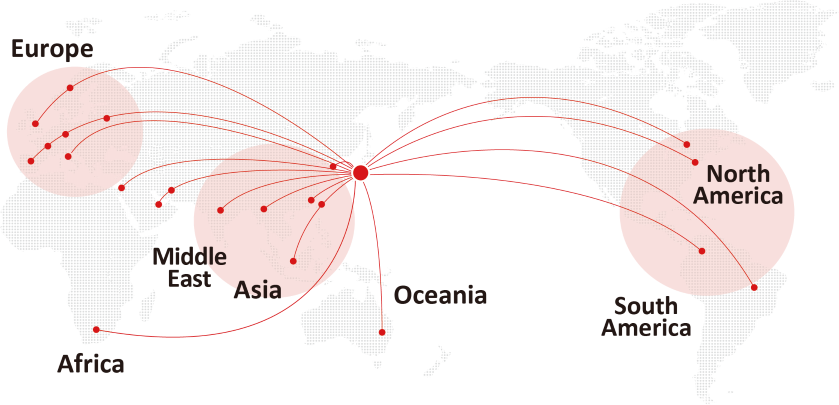 A technical support system offering peace of mind through our sales engineers
With the delivery of high-quality service as our watchword, SEIWA SUPPLY CO., LTD. has established a system wherein our sales engineers use their expertise in chemistry to steadily give support to our customers, not only with regards to product distribution, but also by providing help from the technical side. We have always valued open communication with our customers and have carefully fostered their trust. With this, we are able to accurately determine the needs of our customers each time and then provide fast and beneficial technical suggestions to them.