At ASCS 2019 Conference (June 3, 2019 to June 5, 2019) in Hong Kong, China, we made a presentation on Amitose R, the long-lasting moisturizer, and won the 【Young Scientist Award】.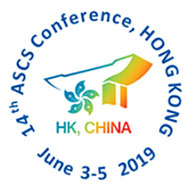 Title of the presentation
Properties and Application of N-Glycerylarginine HCl Salt, a Moisturizing Ingredient that Demonstrates Moisturizing Effect Even after Washing
Product name
Amitose R
Product description
Amitose R is a novel Glycerin derivative developed with SEIWA KASEI's unique technology and made from the combination of Amino acid and Glycerin. It provides outstanding long-lasting moisture and keeps the skin, the hair and the scalp healthy.
INCI
Dihydroxypropyl Arginine HCl
Water
ASCS/Young Scientist Award
The Young Scientist Award is an encouragement award granted by the ASCS (Asian Societies of Cosmetic Scientists) to one of the ASCS conference presenters under the age of 40.